Please note that if click on some of the images on this page they will enlarge
Feedback and Memories of Suters Ltd
If you have any memories of Suters in Slough, Uxbridge, Ruislip, Windsor, Asford (Middx) or of G W Suter Draper in Ledbury we would appreciate your stories. (Also when the business in Slough and Uxbridge became Owen Owen in 1978)
Did you work at Suters?
Did any of your family work there?
Did you to shop there?
We will not publish full names unless requested to do so, or unless on an open Facebook group or website.
____________________________________________________________________
January 2021 - Philip Suter received an email from Jerry V "just a quick email to ask if you know of a film made in the Slough branch of Suters , remember watching it as a small lad , its a out a newspaper reporter who sets the shop on fire to get the scoop on reporting the news , any idea what the fi, was called ???" Philip replied "Hi Jerry Very sorry cannot help, I think it was on a Sunday night and when I went to school next day someone was talking about it. I must have been 13/14. From memory the outside of building was used and they mentioned something like Suters store. I have just posted a message on SLOUGH 1970's Facebook page and if I get replies will let you know. "
Replies from the Slough 1970's Facebook Group - James F Could be this film? https://networkonair.com/all-products/1216-firechasers-the
Derek B The Firechasers, a bunch of us were trying to use Suters alley to go home and were stopped for a while, the star Chad Everett invited us into their trailer and we played guitar for him and he also sang and played a few also. On our way out he gave us a bottle of Jack Daniels and sllpped a £20 note to share. The film is on Talking Pictures roster and turns up occasionally. https://en.wikipedia.org/wiki/The_Firechasers
Aaron B https://youtu.be/AP0s9lsPnWk I spotted Chalvey High Street in it too
Philip added "Ran through the The FireChasers - Complete Movie 1971 - YouTube and came across this near the end - Passageway between Milwards Shoes and Suters and Suters yellow and green canopy"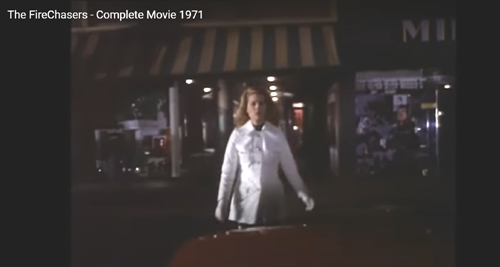 The film was made at Pinewood Studios like Carry on Camping which is at Iver Heath half way between Uxbridge and Slough. It was made a bit later than Philip originally thought though.
Philip heard from Jerry - "that is great , i'll looked it up and watch it tonight , thanks so much "